Quarter Presentation.
For this week, we have to force on the Quarter Presentation and Project Metrics. The most important part is to collect the feedbacks from Quarters.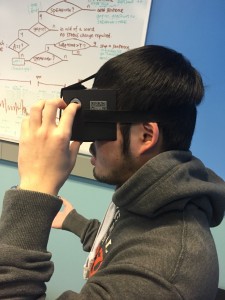 First, attached file is new Project Metrics score. Today, our team discussed this documentation and we highlighted components what are very important and not that important. Please review this documentation and if you have any comments, please let us know. We will plan to send this documentation to Drew after your review around tomorrow.
Second, we got a lot of valuable feedback from Quarters.
Below lists are main feedback we got yesterday. Based on these feedback, we will iterate and improve our project.
Prompter for speakers . Memorize all presentation is too risky. Most presenter use prompter for better presentation.
Closer to audience. ( now it is too far from audience so user doesn't need to rotate their head)
Need more wide Field of View
Variety of Audience ( Business man, student, pretty woman that distracting your eye gaze)
Testing different type of speakers (who use pause for increasing interesting curve. Pause is not always bad)
Playtest during spring break who want to practice ½ presentation.
Audience animation ( sometimes they change their animation too roughly. Make it more nature)
Many faculties gave great feedbacks and satisfied our works.
Happy Valentine's Day.