ETC class of 2020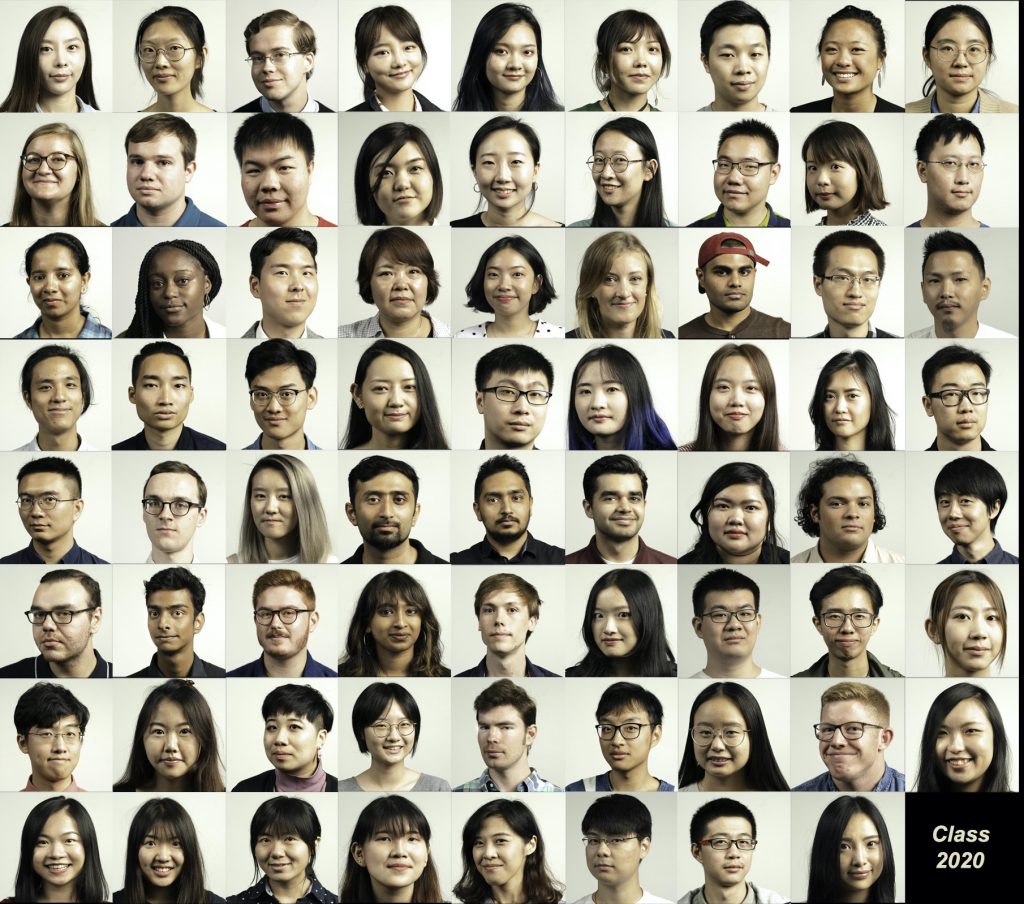 On Sunday, May 17, the Carnegie Mellon University community came together around the globe to celebrate the success of the class of 2020. While not the normal commencement ceremony, the Virtual Conferral of Degrees contained some of the events as the in-person ceremony, like the CMU Pipe and Drum Band processional, undergraduate and graduate student speakers, a welcome to the new alumni from the Alumni Association Board as well as messages from the Dean's, in video form, of course. There were also many well wishes for the class from CMU's more famous alumni who participated in the Virtual Conferral of Degrees. To see the full program, visit CMU's commencement website.
Congratulations to the newest bunch of ETC alumni!
 Jongmi Bae
Zhiyu Bai
Matthew A. Bofenkamp
Jingya Chen
Siyu Chen
Sixue Cheng
Yu-Kai Chiu
Daryl Choa
Ran Cui
Marissa Emily Doerger
Trace Andrew Dressen
Xuhao Du
Shimeng Fan
So Young Han
Tiantian Han
Yikai Han
Xiao He
Mong-Yah Hsieh
Ann Maria Jose
Shana Kia Joseph
Shawn Donghyun Kang
  Ha Ran Kim
Hyelee Kim
Emily Viterise Kovalik
Saumya Manoj Lahera
Zhiguo Lai
Byungju Lee
Kevin Chia Wei Lee
**  Weizheng Lee
Jiming Li
Linyao Li
Ruochen Li
Ruoxi Li
Zhaoyi Liang
Tai Chun (Vicky) Lin
Boyi Liu
Chang Liu
Chance Logan Lytle
Wenyu Mao
Varun Mehra
Swapnil Mengade
Muhammad Bin Tahir Mir
Healthy Moeung
Julian Ochoa
Min Pan
Derrick Anthony Pemberton Jr.
Akash Avinash Phadtare
Liam Thomas Philiben
Nidhi Ramanathan
Charles Parker Ramsey
Shitong Shen
Yifeng Shi
Xiangyu Sun
Chenchen Tan
Jiajun Tan
Mingqi Tan
**  Yui Wei Tan
Weidi Tang
Kristian F. Tchetchko
Yang-Che Teng
Yanyu Tong
Conor Logan Triplett
Yi Ting Tsai
Jue Wang
Xinyu Wang
Jinyi Ye
**  Joey Yeo
Wei-Lin Yu
Ruofan Zhang
Hongzhu Zhao
An Ying Zheng
** December 2019 graduate
CMU, as well as the ETC are committed to bringing the Class of 2020 together for a commencement ceremony on campus in the next academic year. This celebration will include key elements of Carnegie Mellon's commencement tradition, such as college and department diploma ceremonies, as well as the doctor's hooding.  We can't wait to see you all again to celebrate in person!
---