Rising to the Challenge
March 14, 2022
CMU launches program to recognize recent alumni making transformational impacts
By Amanda S.F. Hartle (this article originally appeared on the CMU alumni site: https://www.cmu.edu/engage/about-us/news/alumni/tartansontherise2022.html)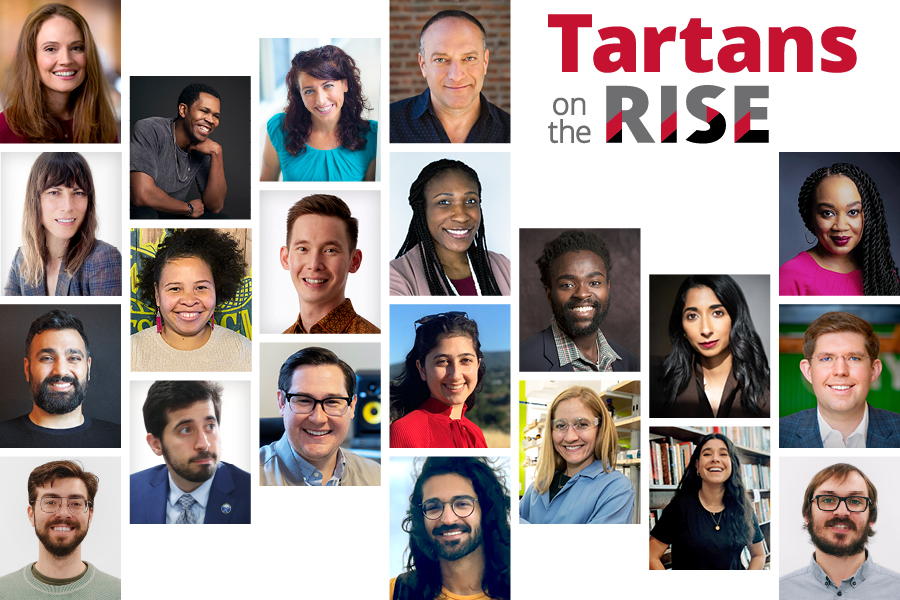 ---
From stages to startups and literary journals to hockey rinks — Carnegie Mellon University's inaugural class of Tartans on the Rise is just getting started in changing the world.
And the university community can't wait to see what its members will achieve next.
Tartans on the Rise celebrates recent alumni who are making an impact in their organizations and in their communities, across the nation and around the world through leadership, innovation and career achievements.
"I join the entire Carnegie Mellon University community in celebrating the inaugural class of Tartans on the Rise and all that they have accomplished so far," said CMU President Farnam Jahanian. "These extraordinary Tartans represent some of our most promising recent alumni, who are pushing boundaries in science, the arts, business, technology, health care, inclusion and so much more. I am tremendously excited by all that they'll make possible in the decades to come through their passion, creativity and leadership."
This year's Tartans on the Rise class represents a diverse and talented alumni body that is working to elevate industries, communities and people everywhere.
"Our recent alumni truly are making a global impact right now," said David Coulter (TPR 1971), chair of CMU's Board of Trustees. "I look forward to the bold breakthroughs these talented Tartans will continue to pursue and the innovative solutions they will create as they shape a brighter future for all."
The 2022 cohort includes alumni who have founded multiple companies, including one unicorn startup, as well as those who have received a Grammy Award, a National Endowment for the Arts Poetry Fellowship and a Fulbright fellowship.
These are alumni who have contributed to the work of NASA, the U.S. State Department and the Department of Homeland Security and have been recognized by the World Economic Forum, the National Science Foundation and National Institutes of Health.
They are bringing energy to underdeveloped communities; improving outcomes for children with congenital heart defects; inspiring others through their art and creativity; creating more diverse and inclusive companies and communities; ensuring health care supply lines meet the needs of patients; disrupting transportation to create a more sustainable future; empowering game creators and social innovators through immersive media; and defining industries such as sports analytics and electronic music design.
"CMU's Tartans on the Rise embody the creative, visionary and entrepreneurial spirit of our alumni," said Teresa Trombetta (HNZ 2018), assistant vice president for alumni and constituent engagement. "I am so thrilled to celebrate their contributions and so proud to call them members of our Tartan community."
Accomplished alumni who have graduated from the university within the past 20 years are eligible to be recognized in Tartans on the Rise. While this inaugural class was selected by university leadership, nominations for future classes will be open to members of the CMU community.
Meet the 2022 Tartans on the Rise:
Doug Bernstein (ENG 2012), Co-Founder and Chief Executive Officer, PECA Labs
Asi Burak

(CMU 2006), Chief Business Officer, Tilting Point; Chairman, Games for Change

Patrick Cao (TPR 2006), President, GoTo
John Clay III (CFA 2017), Performing Artist
Sidhha Ganju (SCS 2016), Senior Data Scientist, Author and Mentor
Sam Hashemi (SCS 2008, DC 2008), Co-Founder and Chief Executive Officer, Felt
Thomas Healy (ENG 2014), Founder and Chief Executive Officer, Hyliion
Denele Hughson (HNZ 2013), Executive Director, Grow Pittsburgh
Lakshmi Iyengar (CFA 2009, HNZ 2009), Executive Vice President and Head of Production and Development, Minor Realm
Kwaku Jyamfi (ENG 2020), Chief Executive Officer, Farm to Flame Energy
Arush Kalra (ENG 2013), Co-Founder and Chief Science Officer, PECA Labs
Nicolette Louissaint (ENG 2006, MCS 2006), Senior Vice President, Policy and Strategic Planning, HDA (Healthcare Distribution Alliance)
Candice Morgan (DC 2004), Equity, Diversity & Inclusion Partner, GV (Google Ventures)
Amy Ogan (SCS 2003, 2008, 2011), Thomas and Lydia Moran Associate Professor of Learning Science, Carnegie Mellon University
Jamie Quinterno (DC 2012), Co-Founder and Chief Operating Officer, PECA Labs
Ashley Reid (TPR 2006), Founder and Chief Executive Officer, Wellist
Leslie Sainz (DC 2013), Poet and Managing Editor, New England Review
Carrie Schneider (CMU 2001), Artist
Stefanie Sydlik (MCS 2007), Associate Professor, Chemistry and Biomedical Engineering, Carnegie Mellon University
Sam Ventura (MCS 2010; DC 2011, 2015), Vice President of Hockey Strategy and Research, Buffalo Sabres
Scott Wasserman (CFA 2010), Electronic Music Designer and Orchestrator
---