Summer Internship 2018
The ETC strongly encourages students to obtain an internship during the summer between their two years of academic study.  We find that students who take advantage of this opportunity not only have a valuable learning experience but also have improved chances for success after graduation.
During the summer of 2018, ETC students gained amazing experience in companies that are familiar to the ETC such as Electronic Arts, The Walt Disney Company, Cortina Productions, etc.  However, they also explored companies such as Walmart and Intuit Inc.  Our students held various titles, some of which include "gameplay programmer", "game designer", "UX design intern", "technical artist intern", etc.
"It is a great opportunity to intern at Electronic Arts. The internship experience at EA is more than doing a job, it is also a well-rounded education. I have improved my technical ability, communication, and problem-solving ability, and I have experienced the process video game development of the game industry."
---
"I spent time developing AR mobile apps for Jaunt Research & Development team. My role here is focused on designing and building the user experience for the next generation of 3D immersive entertainment content. I am working alongside the CTO and Head of R&D in a team to develop content using machine learning, computer vision, and volumetric capture. I am having a great time learning how to rapidly prototype storytelling elements with immersive content in AR."
---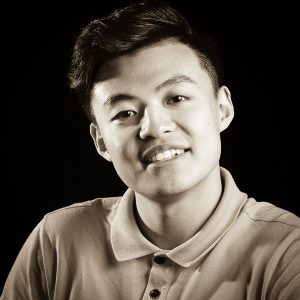 Shuo Wang was an User Experience Intern with a mortgage lending company.  While a mortgage lending company is not what one usually thinks of as an entertainment technology company, Shou used his knowledge of experience design to help the User Experience Design Team create a prototype of an on-line product to make processes for both the customer and the company easier.  The experience allowed Shuo to choose an elective course that will help him improve his overall design and prototying skills.
---
"I'm working as a software engineer intern in Data Services Team, which builds data pipeline and analysis tools for IoT devices. It's been a wonderful journey so far because I got opportunities to work with the most talented people and embrace the culture as well as the corporate value here. Cutting-edge technologies and open-minded environment drive me to learn as much as I can. Oh, also those free food."
---
| | |
| --- | --- |
| Axel Arth, photo courtesy Cortina Productions | Himanshu Telkikar |
Two ETC students, Axel Arth, a Production Intern and  Himanshu Telkikar, a Programming Intern spent their summers at Cortina Productions, a company that designs and produces award-winning multimedia experiences for museums.  Axel's take away from the summer was just to jump in and work, with tight deadlines and projects already in progress, there wasn't much time to wait for comfortability.  Himanshu was able to interact with designers and producers to learn how the company manages the huge amount of content to intergrate it into their projects.  "I also learned about the overall development pipeline of the company and how work flows from producers to designers to programmers. I learned about the user testing process at the company. It was a different process from what I saw at the ETC since at the ETC we follow a more test driven and iterative process, whereas here a more linear waterfall process was used for development."
---
Each summer, approximately 80% of ETC students pursue an internship.  More detailed data for the past three years is available on our Career Services Resouces page.  If you would like more information on how to hire an ETC student for an internship, please contact our Director of Career Services, Susan Timko, stimko@andrew.cmu.edu
---