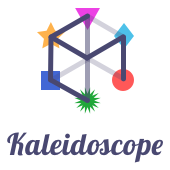 Kaleidoscope has created an interactive experience for the Carnegie Mellon University's Askwith Kenner Global Languages and Cultures room located in the Tepper Quadrangle. This interactive experience consists of two parts. First, there is a seven-to-ten minute experience using three projector screens, one HTC Vive controller and an Intel RealSense camera. The experience was built on the Unity game engine. In this first part, guests are prompted to make assumptions about the person they see inside the experience ("OG Pool") by answering a series of questions about the OG Pool such as "What do you think my highest level of education is?". Guests are then presented with the real answers of the OG Pool and have a chance to compare their assumed answers to these real answers. At the end of the experience, there is a takeaway message where the guests are encouraged to have conversations with people in the real world to seek truth as opposed to making and relying on assumptions built on cultural bias. Second, there is a capturing tool, also built with the Unity game engine, which allows more people to be recorded and added to the experience as additional OG Pools. 
This project was broken into four phases: first is the concept phase, second is the pre-production phase, third is the production phase and lastly, the finalization phase. During the concept phase, the team conducted brainstorming sessions to come up with a rough sketch of the concept for the whole experience. Then in the pre-production phase, the team built prototypes and conducted user-testing. During the production stage, the team built out the entire final experience. In the finalization stage, the team conducted quality-control tests and have installed the experience at the Kenner Room. The project spanned 16 weeks started on January 14th, 2019 and ended on May 10th, 2019. 
About the Askwith Kenner Global Languages and Cultures Room: This space offers students and the community an immersive, interactive language classroom and learning space. It is a place where people can explore the technologies in the room and share stories, capture experiences and reflect on the cultures, identities and groups that connect Pittsburgh and Carnegie Mellon University to the rest of the world.