Advanced Screenwriting – an interdisciplinary course
ETC Assistant Teaching Professor Chris Klug is featured with Professor of English Jane Bernstein in an article for a screenwriting course they are co-teaching this semester.   Below is an exerpt from the article written by Amanda King:
"In TV screenwriting, dialogue is centrally important. The realities of production dictate it – a one-hour episode is shot in 10 days within a strict budget and location constraints. And, Klug explained that in the serialized, week-by-week nature of TV, the audience develops a different, more intimate relationship between characters in their favorite shows.
"They become akin to members of the family and you spend 22 hours a year with those people in your family room," said Klug who has hired over 30 writers at various game companies. "Thus, you see them not so much as stars in a movie, but friends."
In film screenwriting– or as Bernstein calls it, image-driven screenwriting, dialogue is not the primary story telling mode.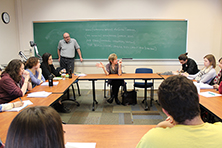 Chris Klug, standing left and Jane Bernstein, seated center, in the Advanced Screenwriting course
Students with interests in different forms can benefit from this class by having the opportunity to listen and learn from each other. While teaching two different forms of screenwriting in one class may sound like a difficult task, it seems as if Bernstein and Klug have already mastered it."
The full article can be found on the English Department's website, here.
---