ETC Class of 2019
On May 19, 2019 the ETC honored 75 students as we held the 2019 Diploma Ceremony at Heinz Field. Following dinner, with fellow classmates, family, ETC faculty and staff the latest group of alumni received their Master of Entertainment Technology degrees from Carnegie Mellon University.
This year's ETC Alumni Award winners Soo Jeong Bae (09) and Jeonghyun Junction Bae (08) gave the charge to the newest batch of ETC Alumni.  The ETC Alumni Award is given to honor alumni who exemplify leadership and innovation in entertainment technology fields through their engaging and inspiring work.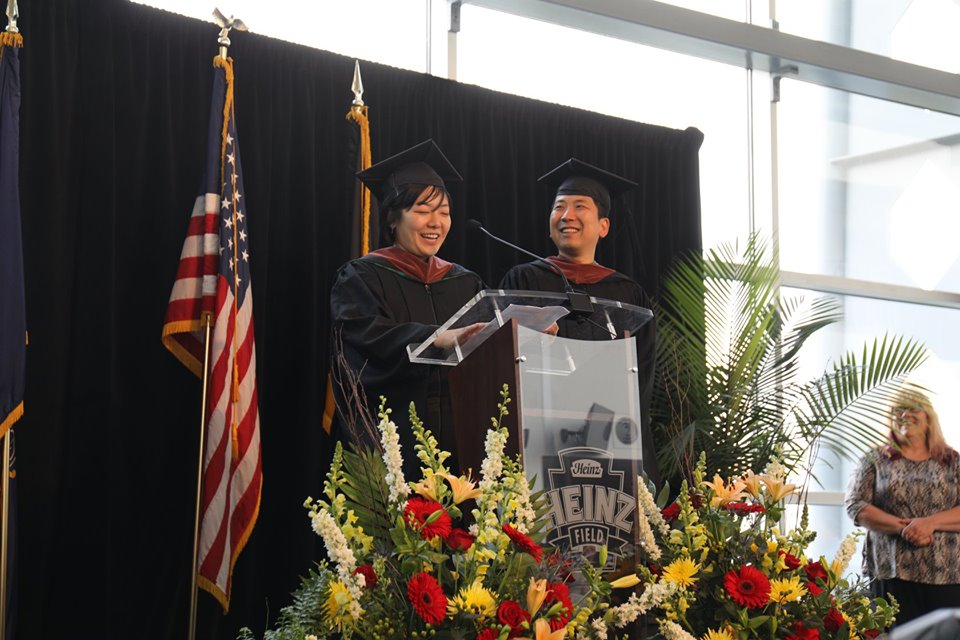 The ETC diploma ceremony concluded with the awarding of the Anne Humprheys' Memorial Award, The Tornado Award and the Pausch Award.
The Anne Humprheys' Memorial Award is given in honor ETC faculty member Anne Humphreys' who passed away after a courageous battle with cancer in recognition of Anne's indomitable character and the fact that she was an inspiration to all who knew her. The award is given to a student who has made the most out of live by living with passion on the moment, and has a focus on community building projects which betters lives for others and in doing so influences others to be positive. This year's winners were Ridima Ramesh and Dustin Stephan.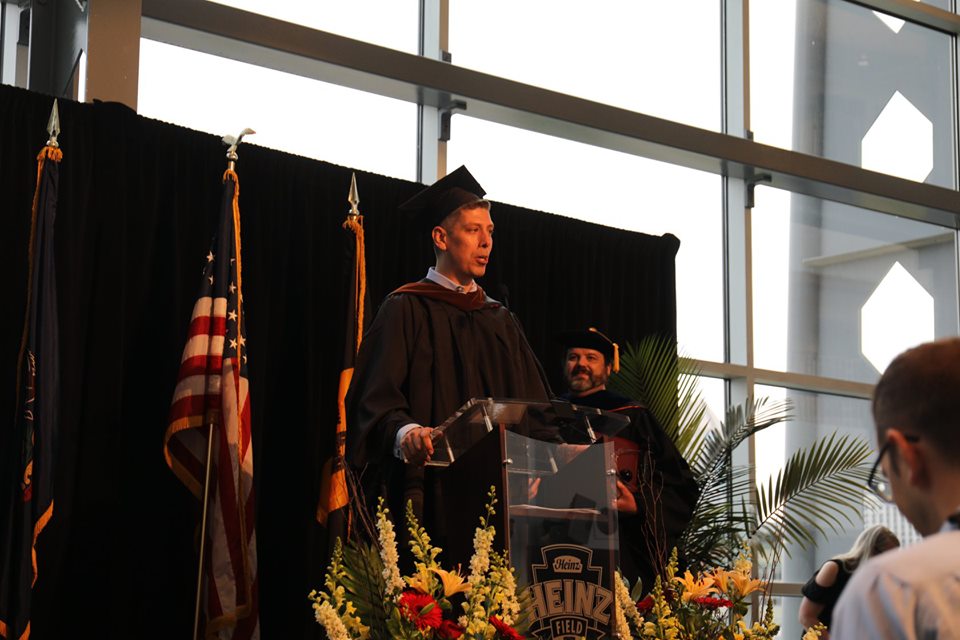 The Tornado Award is given in honor of ETC Co-founder Don Marinelli. The award is given in recognition to the student who goes up against the status quo, the existing parameters and limitations of the entertainment technology industry and makes an impact. This year's Tornado recipient was Yujin Ariza.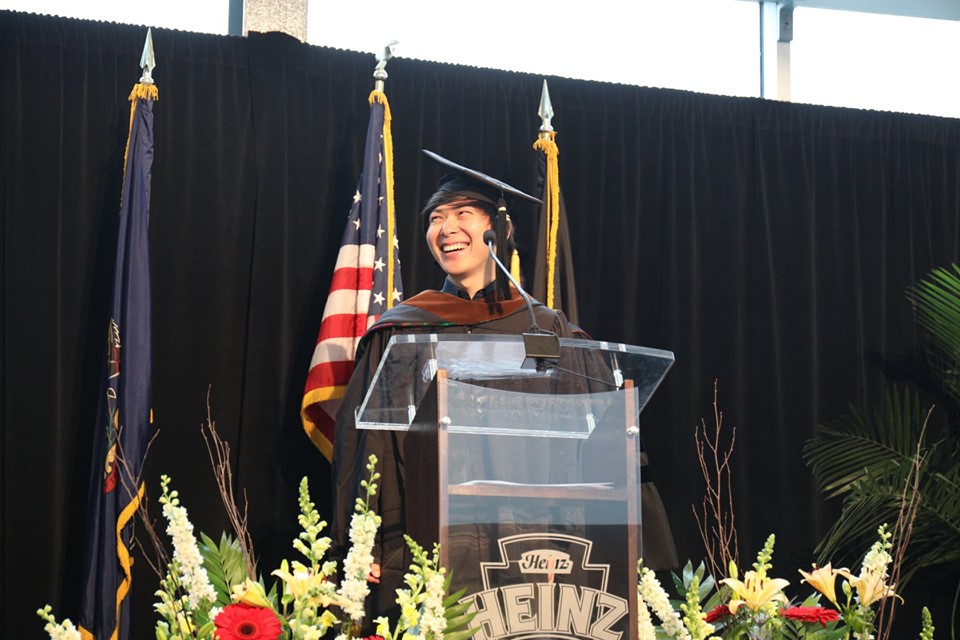 The Pausch Award is inspired by and in honor of ETC co-founder Randy Pausch is awarded to the ETC graduate who best epitomizes interdisciplinary leadership through artistic, technical and interpersonal initiative growth and excellence. This year's recipient was Srujani Kamineni.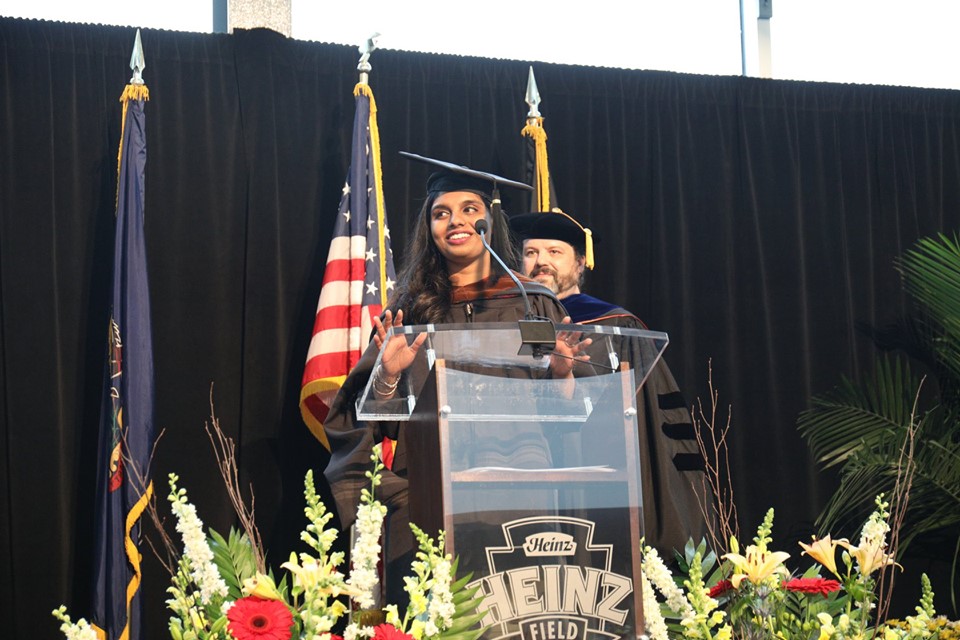 Entertainment Technology Center Graduates 2019
Yujin Richard Ariza
Axel Aaron Arth
Mohan Bai
Caleb Rogers Biasco
Naomi Samantha Burgess
Omar S Cheikh-Ali
Cheung Tai Ching
Raisa Nazah Chowdhury
Joshua David Danzig
Jared Ettinger
Justin Fanzo
Qiqi Feng
Matthew Eugene Floyd
Alexandra Zoe Gobeler
Atul Goel
Rajat Gupta
Yanran Han
Iris Hwang
Niharika Jain
Shan Jiang
Yein Jo
Srujani Kamineni
Sahar Kausar
Bryan Kim
Eunkyeol Kim
Wonjae Kim
Apoorva Kuduvalli Ramesh
Nisha Kunhikrishnan
Jie-Yu Lee
Kangyan Li
Yu Li
Yunhao Li
Danke Luo
Fangda Luo
Guande Lyu
Ke Ma
Ketul Nimesh Majmudar
Sudha Manigundam Raghavan
Qianye Mei
Vasant S. Menon
Tara Louise Molesworth
Thao Huong Nguyen
Euna Faith Park
Seon Woo Park
Erhan Qu
Ridima Ramesh
Miao Ren
Sijie Ren
Siyu Ren
Rachel Elise Rodgers
Jehan Singh Sandhu
Urvil Shah
Dustin Nicholas West Stephan
Trisha Pradeep Surve
Ruili Tang
Himanshu Anirudha Telkikar
Richard F. Tucker
Alan Thomas Turner
Meng Wan
Shuo Wang
Xuejun Wang
Jacob Kieran Wilson
Daniel Evan Wolpow
Hyun Jong Won
Mengqi Wu
Guanghao Yang
Victoria JaeWon Yom
Yuqiao Zeng
Yutong Zhang
Tianyi Zhao
Yifei Zhao
Yutian Zheng
Xuefan Zhou
Chaojie Zhu
Yidi Zhu
---