ETC student Platinum Winner in Narrative Summer poster session
Organizers of the Game Developers Conference (GDC) have announced the winners of the annual Student Narrative Analysis Competition and ETC student Nikhil Kashyap was named a Platinum winner for his narrative on The Walking Dead.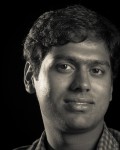 Each year, leading game design programs at universities across the county integrate this competition into their academic curricula; participating students are challenged to conduct a detailed structured analysis of the narrative elements of a video game of their choice.  You can read the about the rest of the winners in an article on Gamasutra.
Nikhil has won a pass to attend the Game Developers Conference February 27- March 3 in San Francisco.  The ETC has had a large presence at the ETC, from student winners, to faculty and alumni sessions.  We hope to announce more participation of ETCers in this year's GDC soon.
---