Future Forgers wins at IEEE Games SIG 2023
On Sunday April 16, the ETC student team Future Forgers presented their game, Project Ecotopia before a panel of judges as part of the 2023 IEEE GameSIG Intercollegiate Computer Game Competition Showcase. The showcase featured the top 10 entries submitted to present their work for the final round of the competition. This year's showcase was held in a hybrid format, in person at California State University, Fullerton and virtually on IEEE's Twitch/Discord channels. The ETC student team took home 2nd place, with praises from the judges for the team making a game on a serious topic while having the game be intriguing and for the extra work in researching for the experience.
Watch the announcement
https://www.twitch.tv/ieeegamesig2023/clip/MoralCrowdedDinosaurDxAbomb-lTNLSzjxPaVS52xG
The Future Forgers team consists of Max Cameron – Producer, Sound Designer, UI; Faris Elrayes – Programmer, Game Designer; Amber Griffith – Writer, Designer, Artist; Yukti Gupte – Character Artist, Art Lead; Yi-Hsiu (Danny) Huang – Environment Artist; and Hagan Miller – Environment Artist. The ETC Project Instructors were Heather Kelley and Jonathan Walton.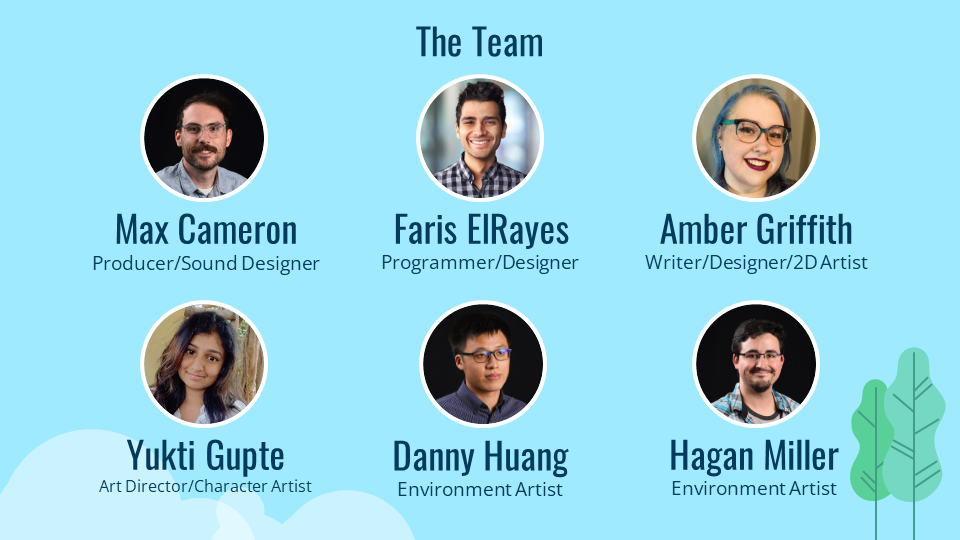 The Project Ecotopia game is available for download on itch.oi
About the Game
Project Ecotopia is a first-person narrative game set across three time periods that show the development of a rooftop community garden and builds to an optimistic, sustainable future. You play as visionary and eco-activist Mirri as she and her family become involved in local sustainable community development. Throughout the experience, you will explore the evolution of the rooftop community space, converse with various characters, and learn about sustainable technology based on real-world innovations. Experience the trials, tribulations, and triumphs of community development and explore the possibilities of what an eco-friendly future can be!
About the Competition
The IEEE GameSIG Intercollegiate Game [Developers] Competition, now in its eleventh year, is an educational outreach project of IEEE GameSIG. The purpose of this event is to help students develop and demonstrate their skills at game design, development and promotion. Students are challenged to show off a playable level of a game, live, in front of an audience of experienced game industry personnel and guests.
---