ETC in CREATE 2016 Best of the Creative Industries
ETC student projects work: Injustice, Decisions that Matter, Imago and VR Rehearsal App for Public Speaking have been named in the Top Ten Education + Gaming Projects of the Year for Create 2016's Best of the Creative Industries.
The CREATE Festival, presented by the Pittsburgh Technology Council, in Partnership with the Dollar Bank Three Rivers Arts Festival,  features a full-day line-up of art, tech, workshops, panels, performances, awards, parties and opportunities to experience the newest trends in creativity and innovation. CREATE is a mashup of connectivity, interactivity and inspiration, showcasing the year's most innovative work in the Creative Industries.
Injustice is an interactive virtual reality experience themed around racially motivated police brutality.  Using the Oculus Rift to view Injustice, guest witness an act of racial discrimination happening in front of them, forcing the guest to make moral and ethical decisions on the spot.  The experience is aimed at exploring the emotional impact of VR space versus traditional film.
Injustice was shown at Games for Change's Games and Media Summit at the Tribeca Film Festival in New York City this past April.  The ETC project team Kalpana of Atit Kothari, Elizabeth Won, Jaehee Cho, Martin Ding, Tiffa Cheng and Stephanie Fawaz made the experience during the fall 2015 semester.
During the spring 2015 semester, the Patronus team created Decisions that Matter, an experience that educates and inspires people towards primary intervention against sexual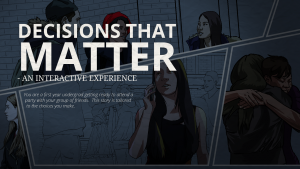 assault on college campuses.  A web based inactive graphic novel, guest are guided as bystanders through varying instances of harassment that can lead to an incident of sexual assault.  Most recently Decisions that Matter was shown at GDC in Intel's University's Game Showcase.   The Patronus team consisted of Cewon Kim, Kirsten Rispin, Laxman Deepak Raj Jayakumar, Stephanie Fawaz and Wenyu Jiang.
Also during the spring 2015 semester Team Hypnos, explored the techniques for film making in 360.  Working with 360 film, 3d modeling, binaural sound, and head/hand tracking the team produced Imago.   The experience brings the viewer into a story like never before, viewing life in the shoes of a severely disabled person.  The story is explored through live film, dance and experimental CG.
The Project Hypnos team consitsted of Tsung-Han (Chuck) Lee, Joel Ogden, Junwen (Eric) Chen, Jaehee Cho, Amy Stewart and Tsung-Yu (Jack) Tsai.
VR-Rehearsal is another virtual reality project from the spring 2016 semester.  The mobile application assists the general public to practice presentations in virtual reality.  It is able to create immersive presentation environments as well as provide various types of feedback, both in real-time reaction from simulated VR audience and non real-time statistics visualization.   The app available for download now and is used on the Google Cardboard (V2) and Android Mobile Devices.
The team consisted of Wendy Zhou, Yang Zhou, Byungwan Lee, Chris Sun and Brandon Kang.
---