Nothing says the start of spring semester like a few inches of snow and some closed roads. On a day like this, it's nice to be able to sit inside a warm, summer-colored room and talk about a project that is both brand new and very old.
The ETC has been partnered with the Children's Museum of Pittsburgh for several years now, always with the goal of pushing the limits of science engagement for small children. At the heart of the project is a deep passion for education and an acknowledgement that however far we advance, there can always be improvements. For the next 15 weeks, we will working with the museum in an effort to discover newer, wackier, and more effective methods for getting kids excited to explore the world around them and connect more deeply with family.
This semester's task force is five members strong, and it's fitting, as we maneuver our desks into place and put up the welcome sign, that we take a moment to introduce ourselves. All five of us are students at the ETC; four are on their first semester-long project here, and one just returned from an internship at Schell Games. Her name is Kirsten Rispin, known within the program for work on Decisions That Matter, a short game designed to get college students to examine their attitudes towards sexual assault prevention. She is taking on the producer's mantle and helping the rest of the team get acclimated to the unique challenges associated with a 15-week design jam.
Beside Kirsten sits Dave Palum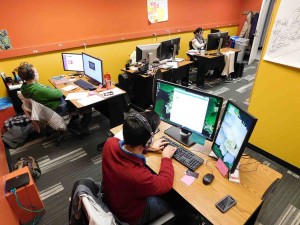 bo, a talented 3D artist and one of our designers. In undergrad he explored the myriad aspects of art and media and is using the ETC as a springboard into the design space.
The second designer, Aly Soto, is pulling double duty as website wizard, so you all can see the lovely things we write here and all our pretty pictures. She comes to us from the University of Idaho, where she studied virtual technology and design. She's excited to be working with a museum on bleeding-edge educational research.
Junghee Ashley Koo got a BFA in illustration and entertainment design from the Art Center College of Design in Pasadena, CA, and is now diversifying with extra studies in user interaction and experience design here at the ETC. She will taking lead on much of our theming and UX work, including our delightful logo which we are very excited to debut roughly next week.
Finally, Antonin Fusco is our writing- and narrative-focused designer. He'll be splitting design work with Aly and Dave, with special attention to all the stuff requiring established characters and words (like these blog posts, for instance). He comes to us with a background in classical history, philosophy, and literature, as well as biochemistry.
That's enough chatter for today. Next week, once we've finished getting all our posters up and sticky notes in order, we'll have some juicier project details to share. See you then!