Quarters week had finally arrived. Our walk-around was on Monday with five groups visiting our project room. We were also visited by Heather Kelly and Jess Trybus later in the week.  Some challenges we discussed with the faculty included how to properly highlight the objects on display, how to encourage / test and implement interaction design (mostly related to "prompting" the guest) as well as touching on logistical challenges like collecting donations, construction timeline, securing donations from theft / vandalism as well as throughput.  (We circled back with the MoBR founders later on the throughput question, and they estimated we should prepare for throughput of about 60 guests at a time in our 2K sq ft space.  In turn, we estimate the experience lasting about an hour, meaning a 60/hr velocity for the space).
We presented with a slide deck explaining our task for the semester and the relationship between our team, our client and the museum. We proceeded to elaborate on our ideas for guest flow and the theme of the museum space using 3D mock-ups and the foam model we had constructed the previous week.  Our latest floor plan describes how we've plotted out the space in terms of an overarching story line with the guest experiencing light-hearted and romantic stories first, followed by the more intense and provocative stories and exiting with more uplifting stories.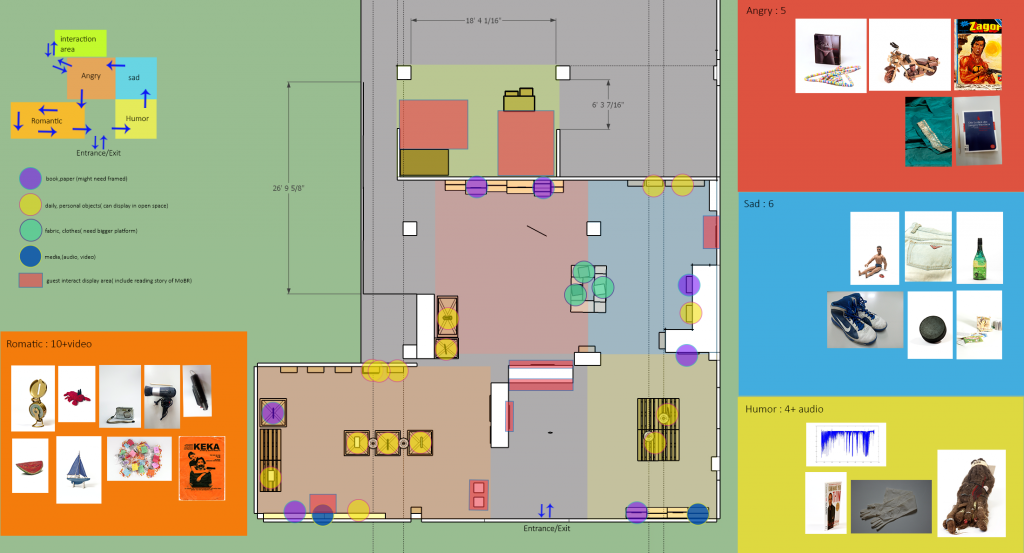 We also displayed basic prototypes of our interactive ideas including the "Misty window", "Balloon Confessions" and the "Word cloud".
In the "Misty Window" concept, guests can leave short lasting notes on a series of iPads, set up to resemble a window.  As the window fogs up, guests can read messages left by the guests before them.  The window later fogs over the message, allowing the guest to leave his or her own message for those that follow.  This concept was exciting for us because it plays into a "confession" theme that runs through all the MoBR traveling exhibits, but in a way that interacts with the idea of memory, time and a tactile/familiar action.  We've all written doodles into foggy windows.
In the "Balloon Confessions" concept, guests write reactions and messages on slips of paper tied to balloons, and "let go," allowing their words to float away.  We liked this feature because of how it balanced a playful sensibility with a very intimate action of physically writing out notes.  This was more in line with how "confession stations" from other exhibits have worked in the past, and we ended the week feeling like it was a solid choice in case our other two interactions encountered challenges to keep them from moving forward.
In "Word Cloud," guests interact with a typewriter, and type out reactions or their own stories.  In turn, the words that make up the guest writings form a "word cloud" that projects a frequency map of the most commonly used words for all the guests.  Spectators witness the subtle differences between the stories of Pittsburgh, contrasted with the donation stories or the stories of other cities.  This allows the guest to share, with the knowledge that their words are private, but also allow them to reconcile their story to the stories within their community.
Our project received some positive feedback and great advice from the faculty. Additionally, Drew, Shirley and Eric expanded on this during our sit-down on Friday.  We further discussed the challenges we face with the logistical timeline, working with the class to cultivate donations, and the excitement we have about the project overall.
After compiling all the feedback we received over the week, we sat down and decided the goals for our next sprint. The team will be working on producing more tangible prototypes over the next few weeks and also playtesting and fleshing out the installation of these in the space. We hope to have something solid by the time the Pittsburgh donations are confirmed.  Specifically, our Sprint 2 (by 10.15.16) goals include:
Donations Confirmed (not necessarily in possession however.
Theming sources shipped / confirmed / ordered (order of preference!)

Confirm budget (confirmed 09/30!!)
New plan for theming according to more concrete details
Crate test (fabrication and painting test)
Place orders through school

Interactives iterated, playtested

ver. 2.0 concepts (more tests with room next door)
Misty window fabrication (prototype 2)
SFX / soundscape iterations
typewriter testing (particularly related to prompting)

Pop up installation (stretch)

find a space / time to test proximity of objects / design
object map / order (rough)
Helping with this goal, we presented our construction budget (theming and interactives) to Drew and it passed.  With this, we will begin sourcing and placing orders for materials for the theming.  Up next, a team trip to IKEA to purchase some prototyping equipment, and plans to fabricate our first concept of the warehouse style pedestals.  Stay tuned!