Newsletter 4 – Pittsburgh Renaissance Fair
Week 4 (Sept. 15th ~ 19th )
This week, we analyzed the data we collected at the Pittsburgh Renaissance Fair during the weekend. Although we were not able to come down with a strong conclusion to our character direction, the survey definitely supported our hypothesis that the original character's seriousness, detail, and intensity lured those with experience in tabletop rpgs, and Cewon's new character's brighter color, and simplicity attracted newer and younger people.
With new information in mind, we gathered together and made a decision of the character direction.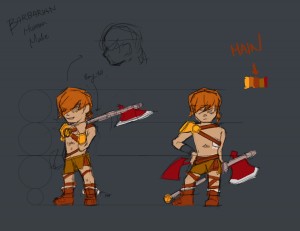 We also plan to conduct a play test on our skills page throughout the week in order to test if our design / UI is solving some of the problems the original character sheet has.
During the week, we received feedback on our poster, half sheet, and logo. Cewon made the necessary changes and submitted the final documents.
By the end of the week we hope to figure out/complete the below:
3D Model of 1 iconic (1st pass)
Design Playtest data – Skils Page
Sound 1st Pass
Next week:
This coming week, we will be preparing for our Quarter Walkaround on Friday. Hopefully we will be able to complete the significant tasks while the preparation goes on. We are looking forward to seeing our characters come to life and in the near future, in our hands. Go Star Stone!