Summary
Goal: Choose a topic for our project.

Challenge: Both topics sounded interesting…and broad to us. Weweren't sure how to pick and if we missed out on anything if we picked one.

Did we fulfill this week's goals: Yes!
Process
We had our first challenge: Choose a topic.
After sharing our individual research on both topics, we could not decide because both seemed interesting and doable.
Having options is a luxury, but sometimes is a trouble. Options give you the feeling of freedom and entitlement, but the process of debating options costs time and effort. We did not feel comfortable making a decision based on the little information we gathered in a few days. We also could not choose because we fear of having regrets of missing out on a fun topic. But anyways, this is not a blog about the Millennial, so let's move on.
Being the time keeper
I informed the team on the date this decision should be made, which is our faculty meeting on Monday. Dave and Brenda recommended the first topic because it is less broad and vague, which would help us move quicker through the design process. And so we picked it.
I also asked the team to decide our team's name within 15 minutes and we arrived at the name "Paradigm." What resonates with us is the idea of challenging an existing belief around art and an individual's civic responsibilities. Setting deadlines is the key to decision-making process.
After getting our topic, our whole team started brainstorming and brought examples of artistic experiences that bring people together and benefit the community. It was helpful to learn what aspects of art and civic engagement we each care about.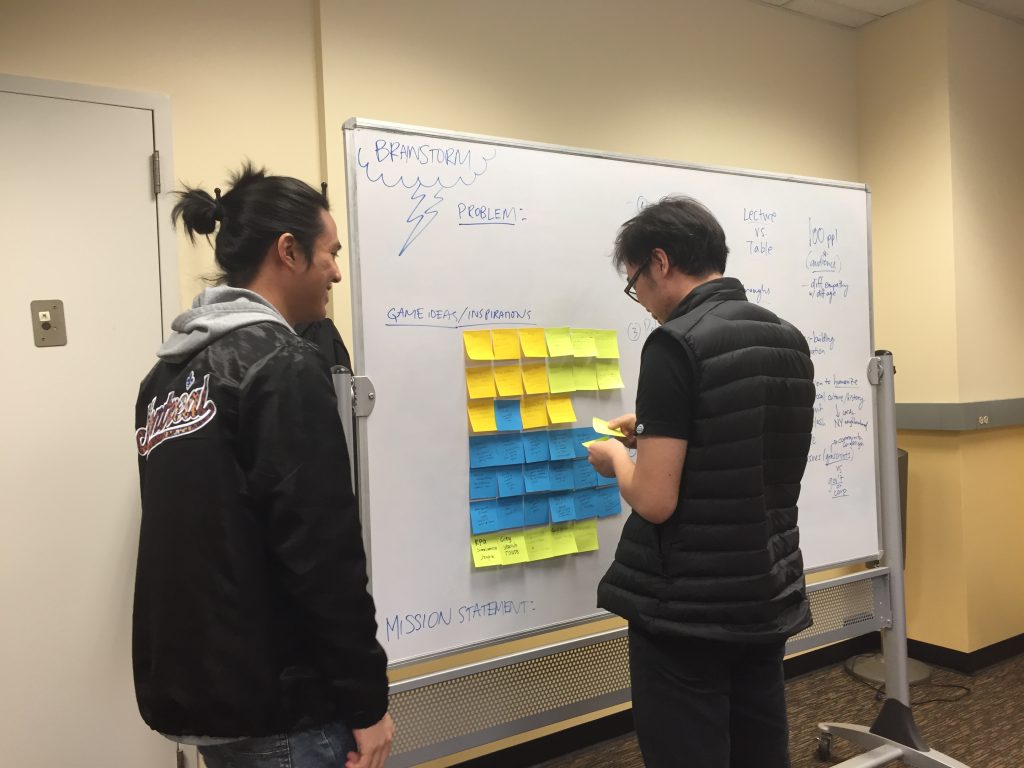 Boyi and Zoe cleverly put up posters in the bathrooms to gather the ETC crowd's responses. We got many good feedback from faculty and students. These posters also helped everyone recognize our team.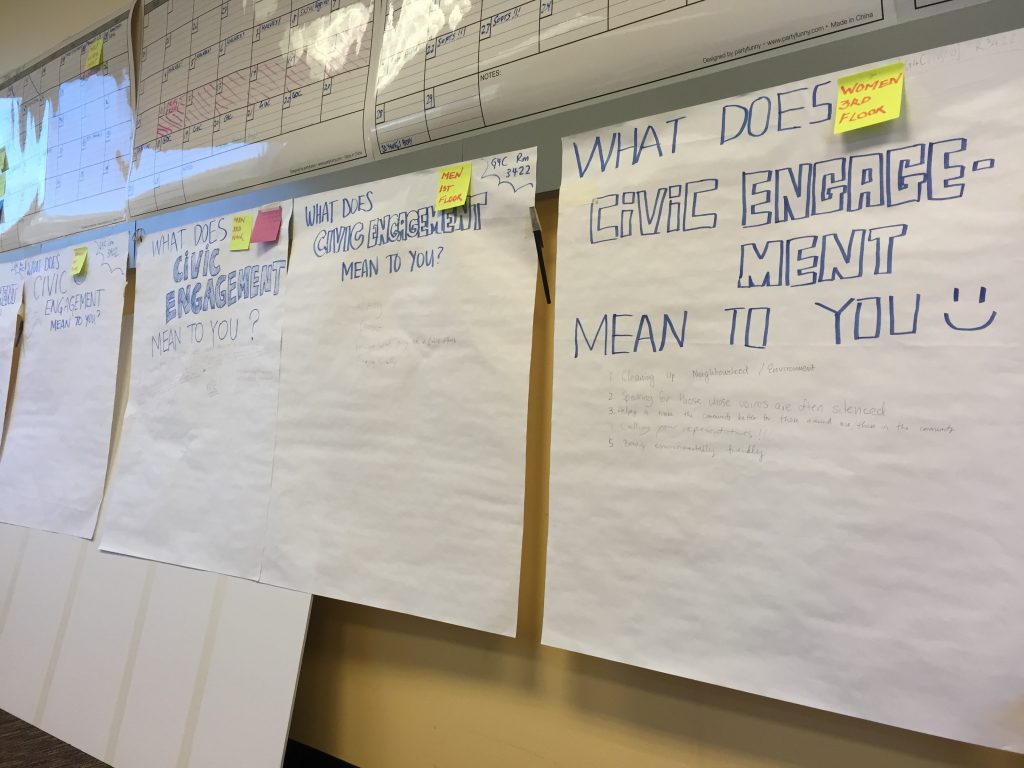 Being the goal keeper
Since we ended up having many different interpretations of what "art" and "civic engagement" mean, I looked for leads that could potentially give us more constraints to our design ideas. I contacted experts who are artists and who work for organizations that support the arts to understand the challenges they face and what they wish to have in order to do more work in this space. I also kept track of my list of contacts and dates to organize interviews or follow up with them.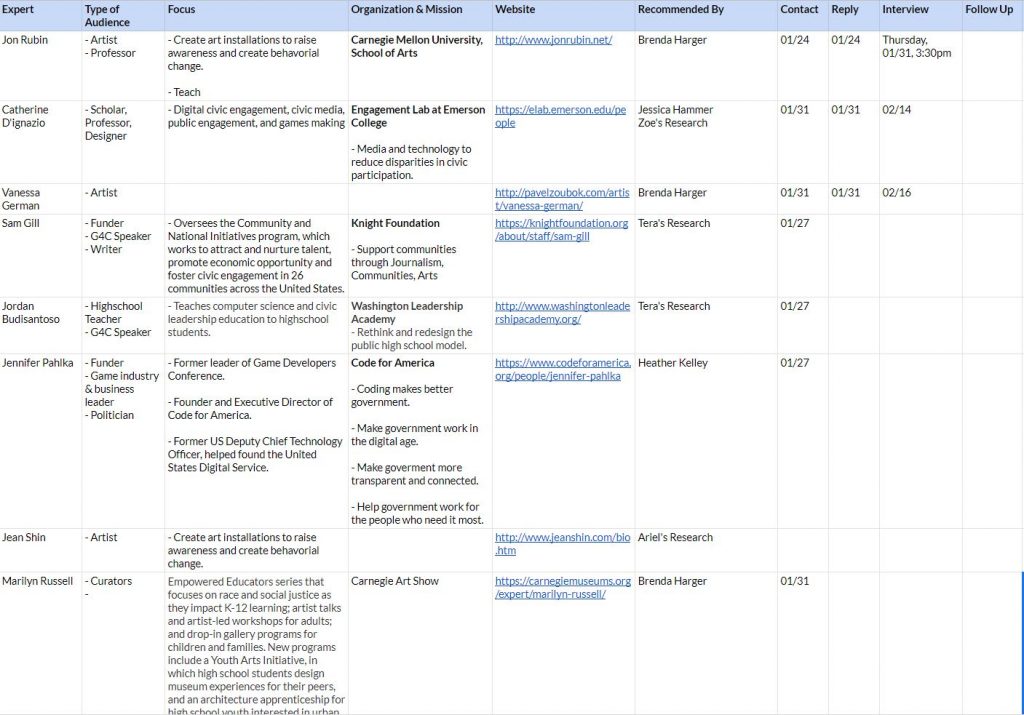 Questions we had for ourselves:
Where do we get good information while waiting for experts to respond?

Are we looking for experts to verify our design ideas or experts to give us information on a problem to design for?

What should the team focus on and how to set goals for those tasks?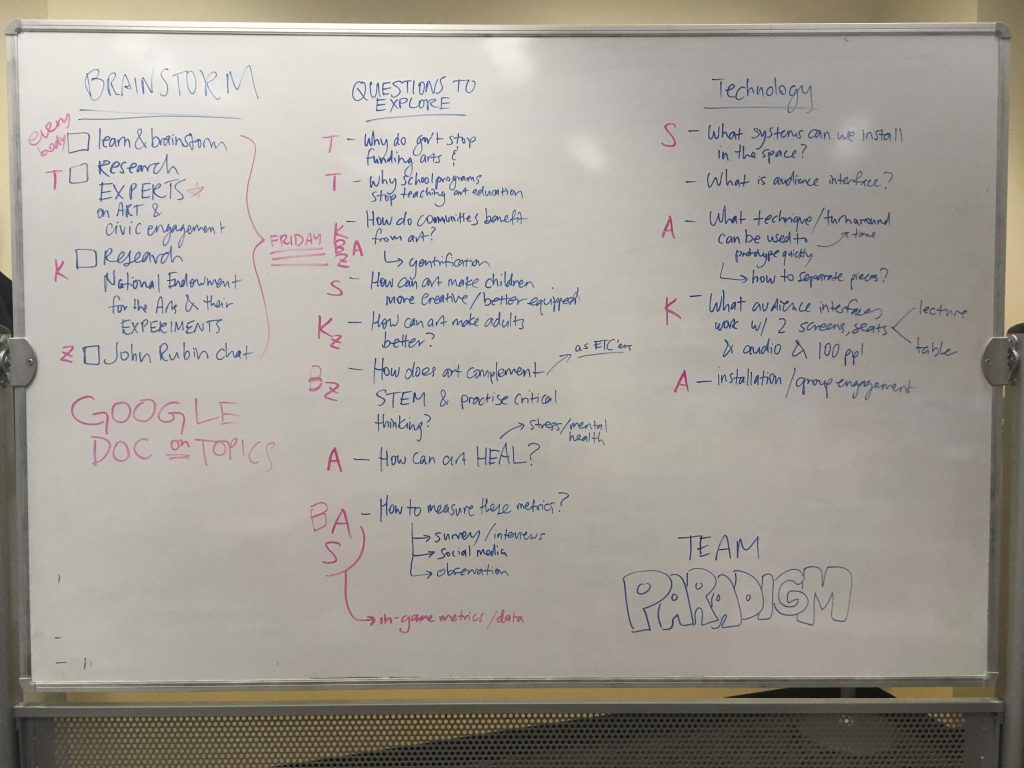 Our team knew we needed to do more/ better research. However, it was challenging for us to go through academic papers without having a clear direction. We went back to the information we had at the time (the space, the tech, and the potential experts) and figured out what we wanted to learn for our pre-production phase.
Tera (me) – looked into the National Endowment for the Arts, Games For Change previous speakers, and contacted more experts to bring validation to the team's directions.

Kevin – studied the Transformational Framework and synthesized our team's design interests to the framework.

Ariel and Saumya – researched the pros and cons of web app versus native app development, front-end and back-end framework.

Boyi and Zoe – continued to look for inspiring experiments and defined our team's branding.
Visually displayed information to bring clarity
Our team could not keep track of all the technical constraints that Ariel and Saumya brought up relating to web app vs. native app. I noted down their concerns on the whiteboard and structured the discussion so everyone could gather around and talk. With faculty's feedback, we quickly decided on web app and started looking for workaround solutions on the web app's constraints.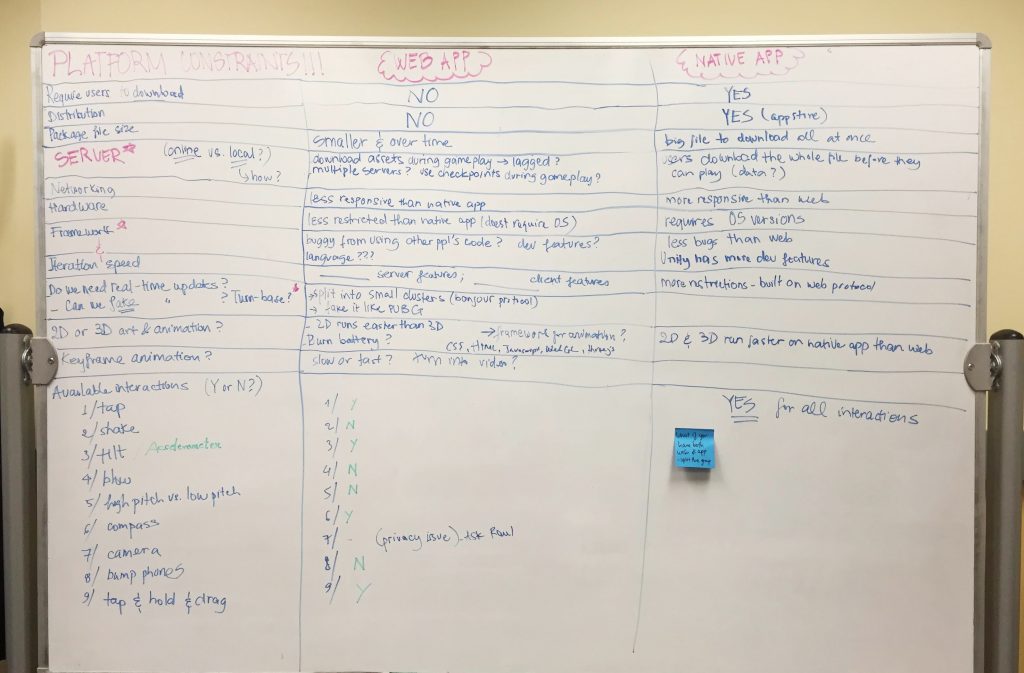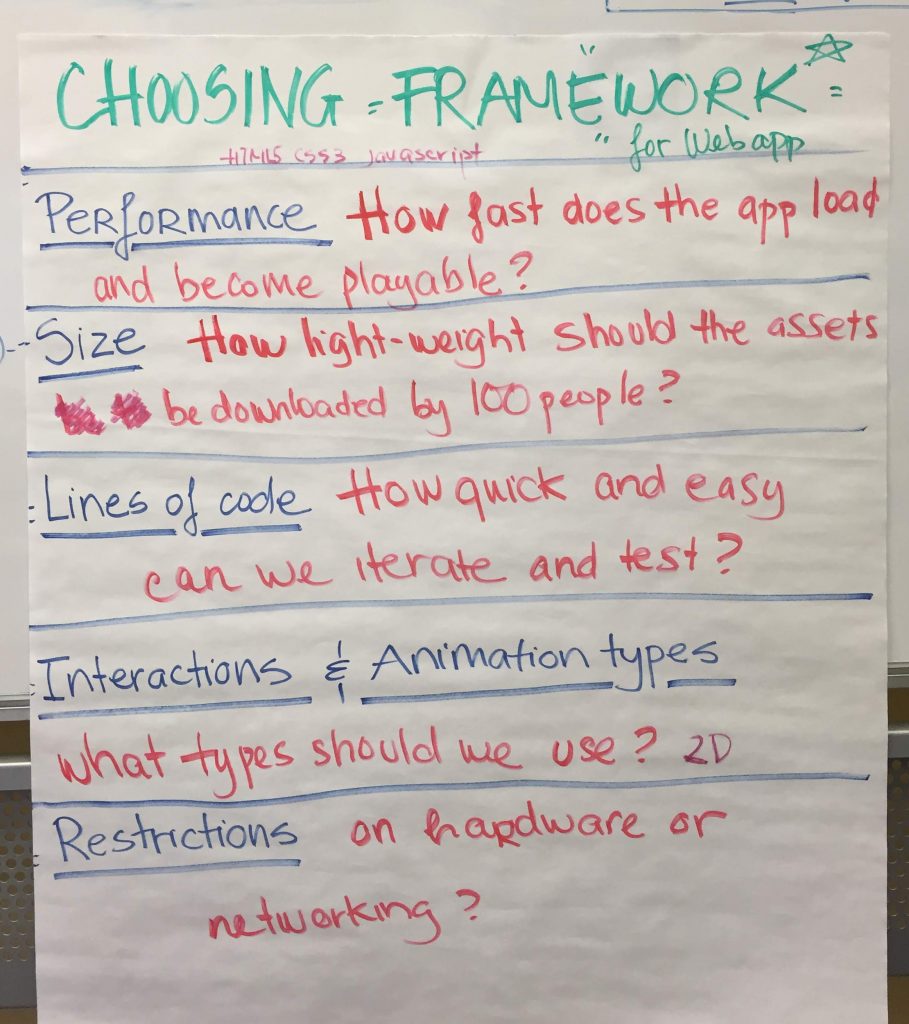 DHow do we make sure our product will be playable for 50-100 people in a physical setting? What are the tools that would allow us to prototype quickly and playtest effectively? More to come in later weeks…