Summary
Goal: Logistics planning for our site visit and final polish

Challenge: We had Open House this week and less than 1 week until our final presentation. Should we spend 2.5 days to go to NYC?

Did we fulfill this week's goals: Complete all our tasks.
Process
After Softs, our team really wanted to go to NYC to see the site instead of staying in Pittsburgh. This was the time for me to evaluate, prioritize, and plan.
Tasks in Pittsburgh:
1/ New drawing interface that inspires more guerrilla art activities;
2/ More variations on group issues display;
3/ Live phone call integration;
4/ Restore the app's process if the internet connection got lost;
5/ App deployment on 20 iPads (old and new iOS versions);
6/ Group's photoshoot;
7/ Prepare for Open House;
8/ Prepare for final presentation.
Tasks in NYC:
1/ Stress test;
2/ Take photos of locations in Parsons and NYC for our product;
3/ Find locations for the ending projected animation, pinning posters, color printer, and live actor.
We decided that the tasks in NYC were definitely more important for us to minimize risks at the festival in June. We also needed the whole team to be there since we all will facilitate the real experience at the festival. Our tasks in Pittsburgh could also be finished this week. And so I asked Dave, Brenda, Drew to approve our travel plans and proposed flight and accommodation options to Janice. I also discussed with Raul (our client) to schedule a session for us to present to the founder of Games For Change, Susanna Pollock.
After a day of intense planning, we booked the "Almost Famous" bus (just kidding, Greyhound) to travel to NYC and a nice airbnb 10 mins walk from our site to stay for a night.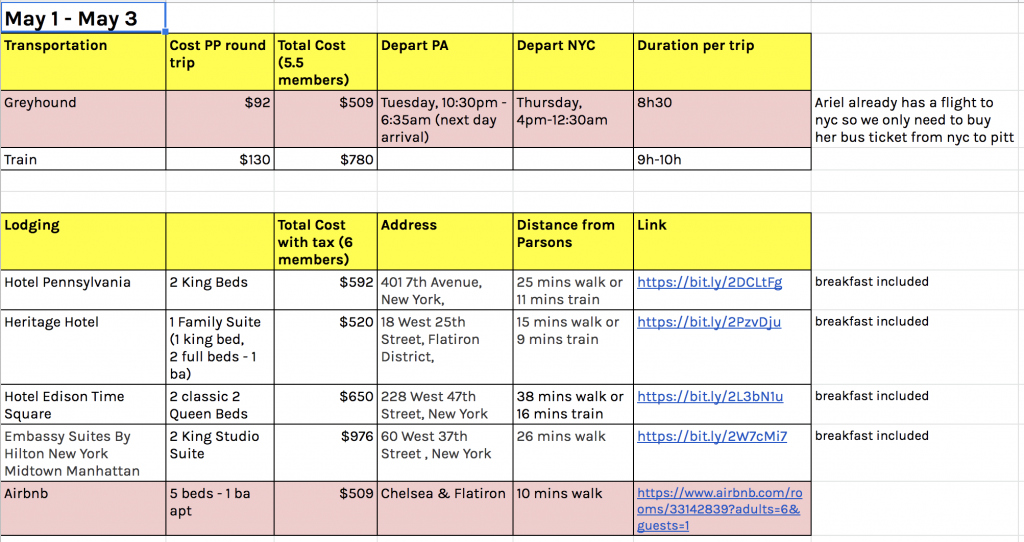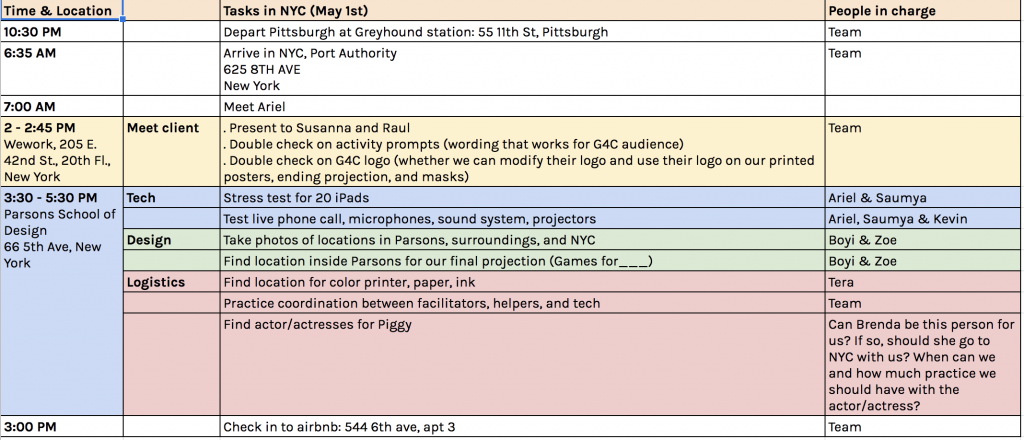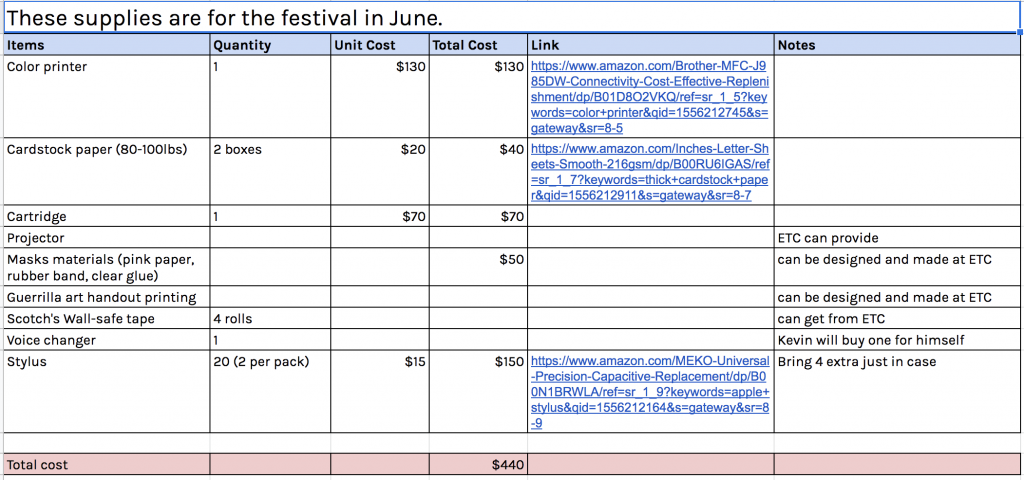 Here are some photos of our site visit. Despite being exhausted from 9-hour bus ride, we got all our tasks done at the G4C's headquarters and Parsons. We then had fun eating and partying that night…for only a bit 🙂
Zoe, Boyi, Ariel, and Saumya finished all the design changes we wanted to make and the Open House on Friday at ETC went went. Sabrina Culyba visited our project and applaud our bold design! We had smiles on our faces…like happy golden retrievers looking for more compliments. We also got our artsy and oh-so-professional headshots taken by Boyi to post on the G4C's website. This team is seriously a beast when it comes to producing assets.