Summary
Goal: Figuring out what we are designing.

Challenges: We still had not arrived at a potential experience. We also had less than 2 weeks to prepare for our Halves presentation which should include our design and preparation for the practicality of implementation.

Did we fulfill this week's goals: Yes!
Process
Boyi, Zoe, and Kevin individually pitched 3 designs to Dave.
Kevin focused on art is a process and fun collaborative interactivity;
Boyi and Zoe focused on art is a product that undergoes popular votes.
Other ideas that were floating around were: content vs. context; art isn't art until it is displayed in a context that makes it meaningful; not-my-backyard problem; everyone can be an artist.
Dave called out the practicality of this project. "What do people need to do when they first meet each other at an experience like this? Ice-breaker." Uhm, we totally did not think about this.
Our team got frustrated and was unsure what to do. Kevin and I believed that our designers still did not share a similar vision, and consequently produced prototypes in separate directions.
We brought up these points of discussions:
Design by committee might or might not be the most efficient way to make decisions.
Our team is in need of a (any) vision and confidence in that vision.
Let's deliver storyboards and interaction screens so designers can have a clearer understanding of what they want and we can evaluate as a team.
Boyi, Zoe, and Kevin should meet separately and agree on a rough experience by this Wednesday.
At the meantime, Ariel and Saumya already finished building the features from last week.
Designers' outing
Kevin, Boyi, and Zoe went to the Carnegie Museum of Art for inspirations and learned the importance of having an artist's narrative to make the things we want to say resonate with others. However, how do we find a narrative that would resonate with us as a team?
Being artists ourselves and citizens of politically restrained countries (ahem, Communism) while studying in the US under the Trump's presidency, we felt entitled that our opinions are similar to artist experts' in this space. It was challenging for us to narrow down our domains and give in to a singular vision.
Relying on deadlines to make decisions
I informed designers that we had to arrive at some commonalities and produce a player's story in 3 days. They were frustrated with me, believing that "you cannot force deadlines on design." But since we only had less than 2 weeks prior to Halves, we had no choice but to come up with something.
And…we did come up with an exciting experience after Boyi, Kevin, and Zoe spent the weekend brainstorming under pressure.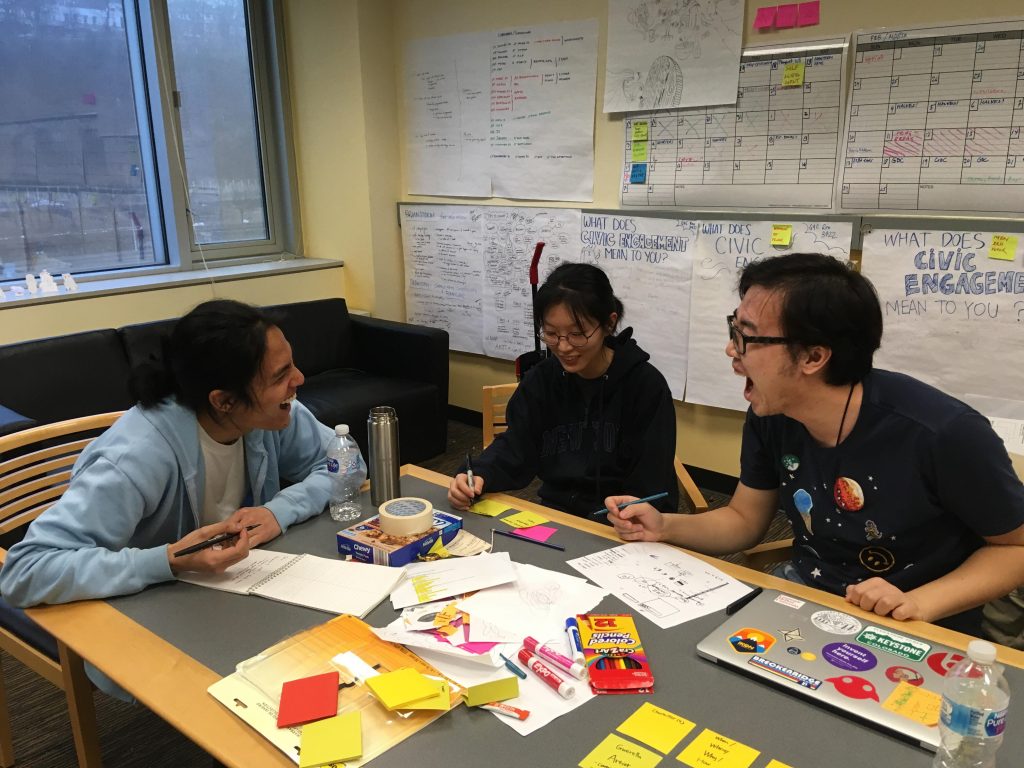 Our experience aimed to simulate a community debate around supporting an anonymous guerrilla artist whose artworks are controversial. By embodying the role of gatekeepers and the role of an artist, players were asked to support the artist and eventually collaborate with the artist on a drawing exercise that would be juxtaposed on a city landmark. The three activity rounds reveal the challenges artists face: power/ money, critics' opinions, expert domains, contrasts of freedom, not-my-backyard, personal identity. Our core message was to encourage Games For Change attendees to transfer thoughts to actions in supporting the art by experiencing these roles and challenges themselves.
There is still much work to be done for Halves, but what mattered most was that we all loved this direction. I was also glad that our programmers' previous prototypes could be used in this experience moving forward.