NEWSLETTER 12
WEEK 12 (4/1/2013 – 4/5/2013)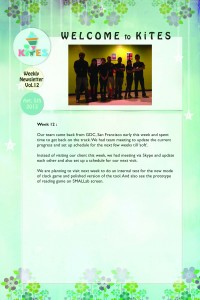 Our team came back from GDC, San Francisco early this week and spent time to get back on the track. We had team meeting to update the current progress and set up schedule for the next few weeks till 'soft'.
Instead of visiting our client this week, we had meeting via Skype and update each other and also set up a schedule for our next visit.
We are planning to visit next week to do an internal test for the new mode of clock game and polished version of the tool. And also see the prototype of reading game on SMALLab screen.
10
Apr
Posted:
April 10, 2013 Wednesday at 9:13 pm