NEWSLETTER 9
WEEK 9 (3/11/2013 – 3/15/2013)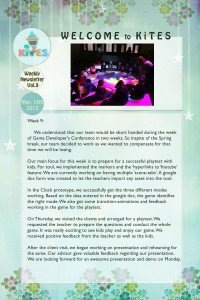 We understood that our team would be short handed during the week of Game Developer's Conference in two weeks. So in spite of the Spring break, our team decided to work as we wanted to compensate for that time we will be losing.
Our main focus for this week is to prepare for a successful playtest with kids. For tool, we implemented the markers and the 'hyperlinks to Videos' feature. We are currently working on having multiple 'scene-tabs'. A Google-doc form was created to let the teachers import any asset into the tool.
In the Clock prototype, we successfully got the three different modes working. Based on the data entered in the google doc, the game identifies the right mode. We also got some transition-animations and feedback working in the game for the playtest.
On Thursday, we visited the clients and arranged for a playtest. We requested the teacher to prepare the questions and conduct the whole game. It was really exciting to see kids play and enjoy our game. We received positive feedback from the teacher as well as the kids.
After the client visit, we began working on presentation and rehearsing for the same. Our adviser gave valuable feedback regarding our presentation. We are looking forward for an awesome presentation and demo on Monday.
15
Mar
Posted:
March 15, 2013 Friday at 9:56 pm