NEWSLETTER 13
WEEK 13 (4/8/2013 – 4/12/2013)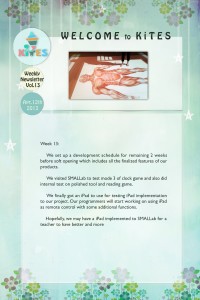 We set up a development schedule for remaining 2 weeks before soft opening which includes all the finalized features of our products. We visited SMALLab to test the Mode-3 of clock game and also did an internal test on polished tool and reading game.
We finally got an iPad to use for testing the iPad feature in our Teaching tool. Our programmers will start working on using iPad as remote control with some additional functions.
Hopefully, we have the iPad feature implemented to SMALLab for a teacher to have better and more control over the tool.
22
Apr
Posted:
April 22, 2013 Monday at 9:14 am